RIKEN -JEOL Collaboration Center

Overview & Objectives
The RIKEN-JEOL Collaboration Center was established in November 2014 to create an organization that combines the strengths of both RIKEN, which has a track record of developing drug discovery and medical technologies based on a dynamic understanding of life phenomena from the atomic to the individual level, and JEOL, which boasts world's top-level technology for developing and manufacturing scientific instruments, and to create unique Japanese technologies that will enable Japan to compete globally in the field of analytical and diagnostic instruments.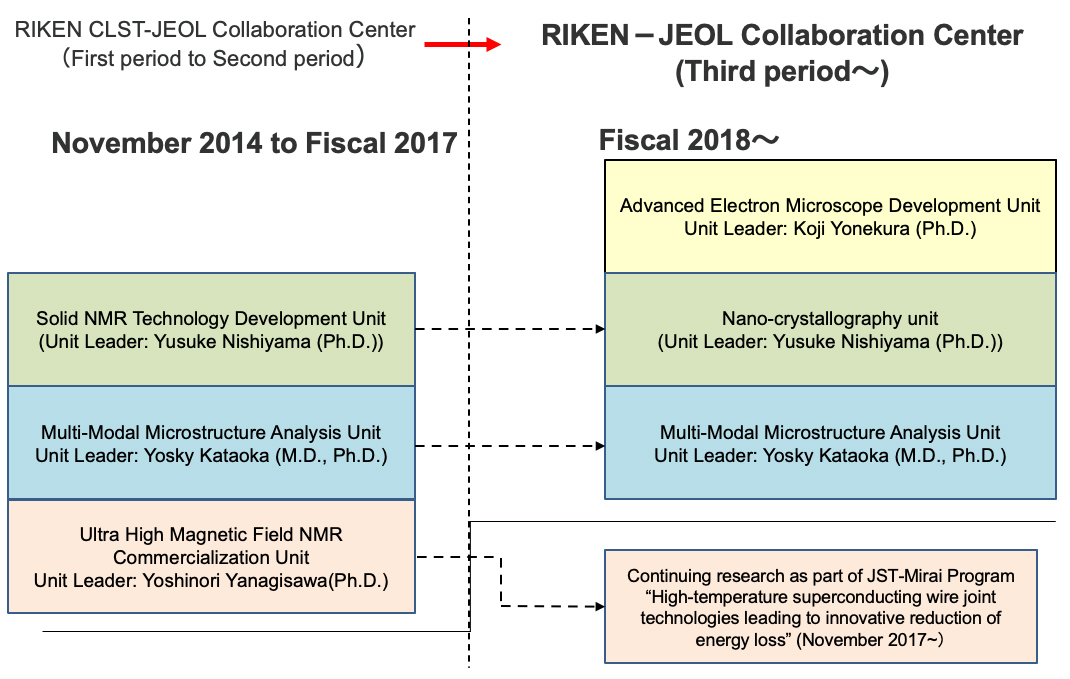 Fig. RIKEN-JEOL Collaboration Center – Unit Transition
Organization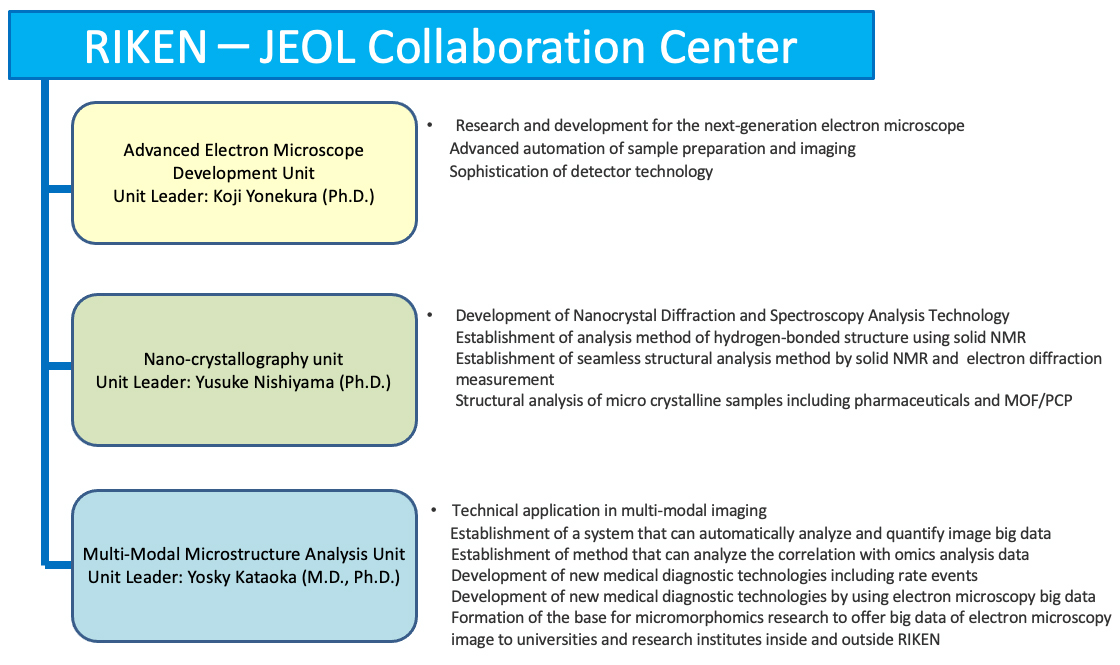 Fig. RIKEN-JEOL Collaboration Center
Products
Transmission Electron Microscope (TEM)
Nuclear Magnetic Resonance Spectrometer (NMR)
Scanning Electron Microscope (SEM)
Access
Advanced Electron Microscope Development Unit
Harima Branch
1-1-1 Kouto, Sayo-cho, Sayo-gun, Hyogo 679-5148, Japan
By Bus
70 minutes from the new bus terminal island at the North Exit of JR Himeji Station
40 minutes by bus bound for Spring-8 at the South Exit Rotary of JR Aioi Station
By Taxi
50 minutes from the South Exit of JR Himeji Station
25 minutes from the North Exit or South Exit of JR Aioi Station
Nano-crystallography unit
Yokohama Branch
1-7-22 Suehiro-cho, Tsurumi-ku, Yokohama, Kanagawa 230-0045, Japan
By Bus
Take the #08 bus (bound for Fureyu) from Platform 8 at the East Exit of Tsurumi Station (also accessible from the West Exit of Keikyu Tsurumi Station) and get off at the RIKEN Shidai Daigakuin Mae bus stop. The institute is across the street.
By Train
A 15-minute walk from JR Tsurumi-Ono Station (JR Tsurumi Line), which is directly accessible by transfer from JR Tsurumi Station.
Multi-Modal Microstructure Analysis Unit
Kobe Branch
2-2-3 Minatojima-minamimachi, Chuo-ku, Kobe, Hyogo 650-0047, Japan
By Train
A 2-minute walk to the east area from Iryo Center station on Port Liner, to the east area. It takes 13 minutes to get to the Iryo Center Station by Port Liner from the JR Sannomiya Station or Sannomiya Station on the Hankyu Kobe Line.