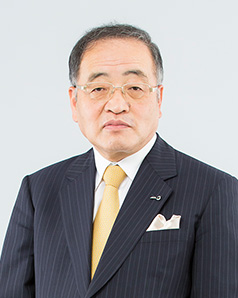 President
Gon-emon Kurihara
JEOL, Ltd. marked its 65th anniversary in May 2014. We would like to offer our sincere gratitude to all people for their warm support since our founding in May 1949, right after the war, as the company who develops electron microscopes.
The progress of scientific technology during this period has been remarkable, and we have been striving to expand our businesses, with our keen desire to contribute to society through science, with electron microscopes, analytical instruments, medical equipment and industrial equipment.
Ahead of other manufacturers, with the global market in mind, we established a worldwide organization to facilitate the sales and services activities. This effort has borne fruit and today our instruments are being utilized everywhere in the world, and our reputation as a genuine global company has been firmly established. We will, bearing the needs of the time in mind, continue to enhance our global network so that the demands of customers can be promptly satisfied.
Our management philosophy pledges that "JEOL pursues the world's highest technology based on Creativity" and "Research and Development", thus contributing to progress in both Science and Human Society through its products. " Our primary mission is to develop the most advanced and excellent instruments that satisfy the market needs and deliver them to the customers in a timely fashion.
However, we recognize that what we should focus on today is not only providing customers with excellent instruments, but also the best complete solutions, to deliver long-term satisfaction throughout the entire life of the product.
With a new concept of "Solutions for Innovation", we aim to become the "Only One Company" offering solutions that cannot be found anywhere else, will continue our efforts to contribute to scientific technology worldwide.
We would appreciate your continuing support.