GC-TQMS Quantitative Analysis Solution for Food and Water Safety
(Update: 2021/2/25)
It is important to measure the quantities of hazardous substances for checking the safety of food and water.
The measurements are required high sensitivity, high throughput and wide dynamic range because related laboratories need to handle a lot of samples and the maximum residue level (MRL) depends on each targeted compound.
Gas Chromatograph/Triple Quadrupole Mass Spectrometer (GC-TQMS) has often been used for such measurements, however, it is still difficult to meet the all requirements.
In this web seminar, we will present pesticide and Dioxins analysis with our new GC-TQMS (JMS-TQ4000GC) system. We evaluated the results with aspects like sensitivity, throughput and dynamic range, etc., and found that the system is available for the field of food and water safety.
A dedicated software (TQ-DioK) has also been found to be effective for Dioxin analysis.

This seminar will be distributed online. As far as you can connect to internet, you can participate in the seminar from your computer as well as from your smartphone or tablet. We look forward to your participation.
"
Who should attend?
"
Those who are engaged in the measurement of residual pesticides in food or water.
Those who are engaged in the quantitative analysis using GC-QMS or GC-TQMS
"
By attending this webinar you will learn...
"
The state-of-the-art technology of GC-TQMS and how it works in various analysis for food and water safety.
Presenter: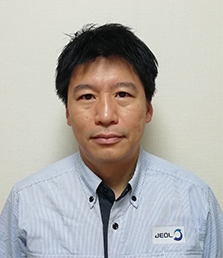 Junkei Kou, PhD
GC-TQMS Project Leader, JEOL Ltd.
Date and Time:
Date: 21 December, 2020
Broadcast: 3:00 pm JST (Tokyo)
Approximately 60 minutes
Contact:
E-mail:sales1[at]jeol.co.jp
Demand Generation Div.
JEOL Ltd.
Movie
Please enter your information to move to the movie page.
* Please note that registration by competitors may not be accepted.