Solid-state NMR is an attractive tool to elucidate structures and dynamics of solids at an atomic level. Unlike diffraction-based methods, solid-state NMR doesn't require long-range periodic structures, thus is able to analyze virtually all the solids including amorphous, glass, mixtures, micro-crystals, etc.
In this webinar, we will introduce a set of building blocks of solid-state NMR to understand basics: MAS(magic angle spinning), CP(cross polarization), 1H decoupling. Several typical applications will be introduced to demonstrate the capability of solid-state NMR. Lastly, practical tips in solid-state NMR like sample packing etc. will be discussed.
This seminar will be distributed online. As far as you can connect to internet, you can participate in the seminar from your computer as well as from your smartphone or tablet. We look forward to your participation.
"By attending this webinar you will learn..."
What information can be obtained using solid-state NMR
Basic principles of solid-state NMR
Practical applications of solid-state NMR
"Who should attend?"
Those who are interested in atomic-level structures of non-crystalline samples, including amorphous, glass, elastomers etc.
Researchers who are working on polymer, pharmaceutical etc.
Basic experience and understanding of (solution) NMR is advisable (but not mandatory)
Anyone who is interested in solid-state NMR!
Presenter:
Yusuke Nishiyama, Ph.D.
Unit Leader,RIKEN-JEOL Collaboration Center,
NMR Application Specialist, JEOL RESONANCE Inc.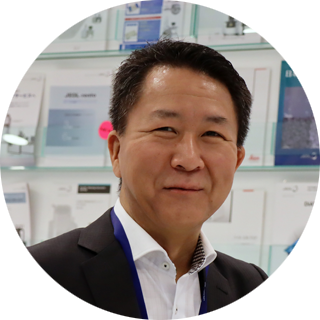 Date/Period:
Friday, May 28, 2021

Broadcast 1 : 1:00 p.m. JST (Tokyo)
Broadcast 2 : 3:00 p.m. JST (Tokyo)
Approximately 60 minutes
Registration:
* Please note that registration by competitors may not be accepted.
Contact:
E-mail:sales1[at]jeol.co.jp
Demand Generation Div.
JEOL Ltd.