ABOUT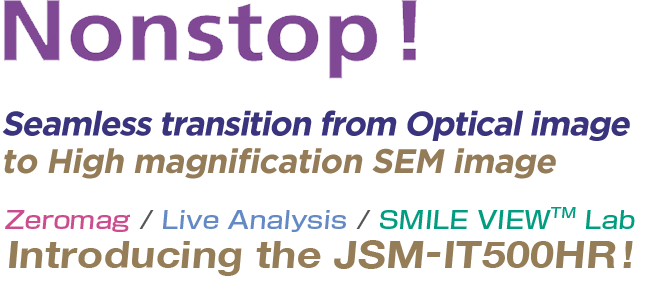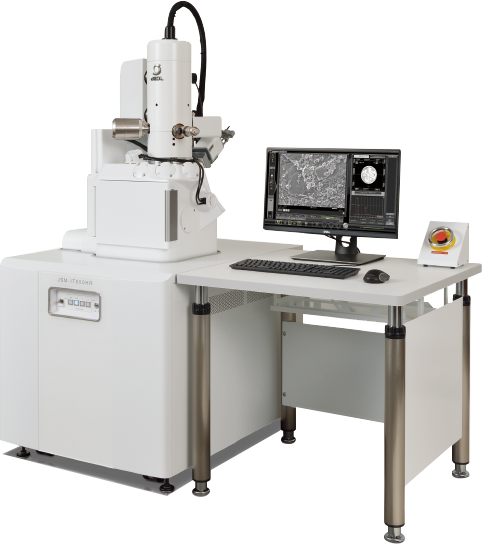 NONSTOP FEATURE
FEATURE 1 Zeromag/LiveAnalysis
●With Zeromag,
Anyone can perform seamless transition from the optical image to the high-magnification SEM image.
●With Live Analysis,
Elemental analysis results are always displayed during observation of a high-magnification SEM image. Seamless transition is made from high-magnification SEM imaging to elemental analysis.
FEATURE 2 Montage
●With Montage,
You can identify foreign materials and analyze fractured-surfaces for acquisition of detailed and comprehensive information of specimens. With Zeromag, it is easy to set up one or more montage areas for imaging and analysis.
FEATURE 3 Report
●SWith SMILE VIEWTM Lab,
You can save all the data of CCD and SEM images, EDS analysis results and corresponding stage coordinates for integrated data management. You can also review or re-analyze already-acquired data and export them to a report.
SCENE
Scene1
Rapid solving of production problems
Products are becoming increasingly compact with scientific progress.
Analysis with the JSM-IT500HR enables rapid solving of production problems of compact products, leading to yield improvement.
Scene2
JSM-IT500HR suitable for routine tasks
Routine tasks take long hours, including full systematic inspection and foreign material inspection over large areas. Auto image capture using Montage and analysis over many fields allow for effective use of instrument and time.
Scene3
JSM-IT500HR makes SEM management easy
The JSM-IT500HR reduces burden on the instrument manager, such as training for many operators to use a single SEM and instrument maintenance. The instrument managers can focus on their own experiments and other tasks.