Three types of setscrew in each 10 pcs as a set for the FE-SEM series standard holder of the Field Emission Scanning Electron Microscope are provided.
The oil removed and packed screws allow your immediate use in the environment of the vacuum easily after opening the package.
Feature

◇The package is adaptable to the following 3 types of standard specimen holder. (Refer to the drawing above.)
A: 32mΦ Standard specimen holder (M3x6mm)
B: 26mΦ Standard specimen holder (M3x4mm)
C: 12.5mΦ Standard specimen holder (M3x3mm)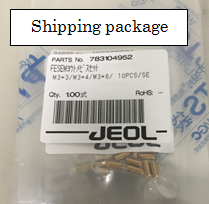 Applicable models
JSM-6300F / 6301F / 6400F / 6401F / 6330F / 6335F / 6340F / 6500F / 6700F / 6701F
JSM-7000F / 7001F / 7100F / 7200F / 7400F / 7401F / 7500F / 7600F / 7610F / 7800F
JIB-4600F / 4601F / 4610F

*This set is available for the models other than the above if the screws of present use are same type.
Usage
Please open the package before using.
Please store the rest of screws into the desiccator etc, after opening the package.
Ordering information
| P/N | Name | Description |
| --- | --- | --- |
| 783104952 | Set of setscrews for FESEM | M3×3/M3×4/M3×6/ 10PCS/SE |