Dust proof cover for the specimen exchange rod
This is a specimen exchange rod cover for the FESEM.
Feature
Although the specimen exchange rod is inserted into the vacuum of the specimen chamber, it is exposed in the atmospheric pressure when not being used. This cover is designed for protecting the specimen exchange rod from dust while the rod is not being used.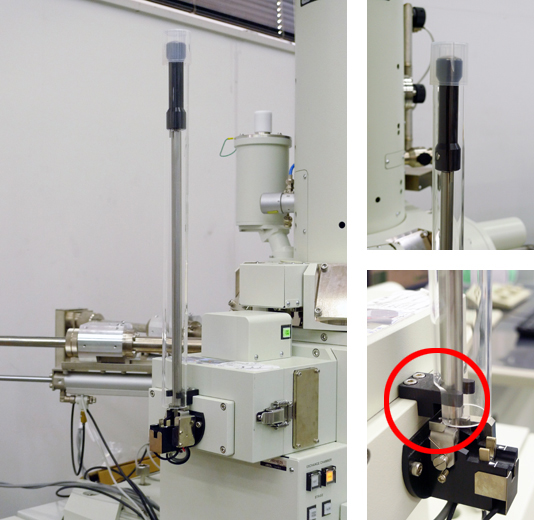 The cutout portion of the cover is placed as shown in the red circle of the picture above while the exchange rod is not used.
*Caution: Please do not attempt the specimen exchange while the cover is on.
Applicable models
JSM-6500F / 6700F / 6701F
JSM-7000F / 7001F / 7100F / 7200F / 7400F / 7401F / 7500F / 7600F / 7610F / 7800F
JIB-4600F / 4601F / 4610F
Ordering information
| P/N | Name | Description |
| --- | --- | --- |
| 824616758 | Cover for the specimen exchange rod | 824616758 |