This is an adapter for the JSM-F series standard specimen holder of the Field Emission Scanning Electron Microscope. Simultaneous mounting of 3 different specimens on this adapter reduces the frequency of specimen exchange and it allows the better workability.
Feature
◇This adapter allows the simultaneous mounting for 3 of 12.5Φ specimen pedestals.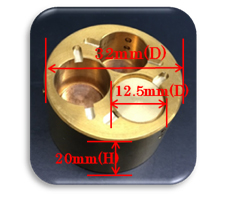 ◇ Two setscrews for each block fasten them from the side.
◇ 4mm depth slit of each port allows the tweezers for picking up the block.
◇ Adjustable for the specimen height:
Ranging from -2mm to +4mm
(in reference of the top surface of specimen holder for 10mm height block)
Precautions
In the FESEM, the specimen height is usually set to the top surface height of the specimen holder to avoid the contact to the inner components. If the specimen is protruded from the holder, please be aware of the device setting and operation. Be aware of the contact to the Backscattered Electron Detector as well.
The ring of the standard holder has to be disengaged from the 32mmΦ specimen holder for setting this adapter.
Usage
1) Disengage the ring.
2) Attach the specimen-mounting pedestal to the adapter, and set the adapter to the standard holder after adjusting the adapter height.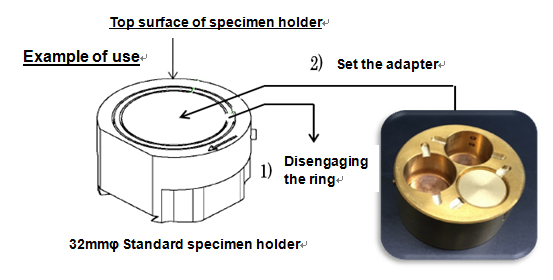 Example) For JSM-6500F P/N:804410496
Applicable models
JSM-6300F / 6301F / 6400F / 6401F / 6330F / 6335F / 6340F / 6500F / 6700F / 6701F
JSM-7000F / 7001F / 7100F / 7200F / 7400F / 7401F / 7500F / 7600F / 7610F / 7800F
JXA series
*Available for the SEM models other than the above, if 32mmφ holder is composed.
*Not recommended for the JIB-4600F series because some troubles on the process are considered.
Ordering information
| P/N | Name | Description |
| --- | --- | --- |
| 813000157 | Specimen holder | 81300157 |
Other
Please be aware that the 32mmΦholder differs depending on the type of the main device.
| Applicable models | P/N | Name | Description |
| --- | --- | --- | --- |
| JSM-6300F~6335F | 804396825 | Specimen holder(B) | 32Φ×20 |
| JSM-6500F~7800F | 804410496 | Specimen holder(32) | 804410496 W/CASE |