All kinds of disturbance sources exist around the installation site
JEOL aspire on providing optimum installation room environment, for you
The performance of JEOL's high-end instruments, such as Transmission Electron Microscopes and Nuclear Magnetic Resonance Spectrometers, are upgrading day by day. Concurrently, the demand on environmental countermeasures are increasing as the instruments are getting more sensitive to environmental disturbances such as floor vibration, magnetic field, acoustic noise and so on.Utilizing our advanced equipments and accumulated experience, JEOL provides the best solution to assure the optimum environment for your instrument.
Environmental Engineering Technology Our Policy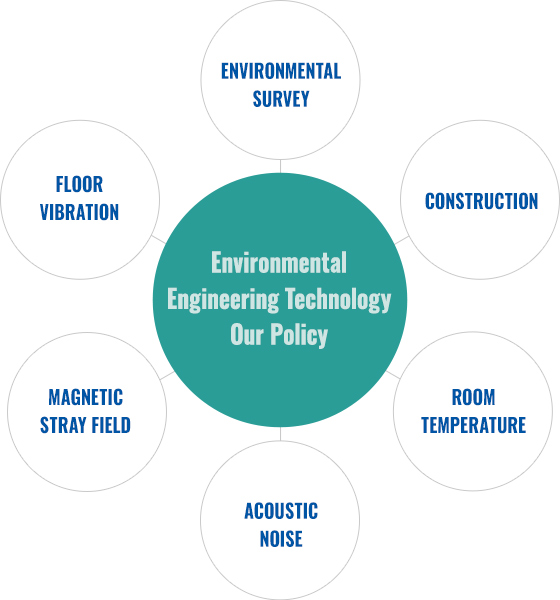 Various source of environmental disturbance
Identifying the source and characteristics of disturbance is the first step for executing countermeasure. JEOL provides total solution on settling installation room environment based on our accumulated experience, uniquely developed technology and deep comprehension on the instrument itself.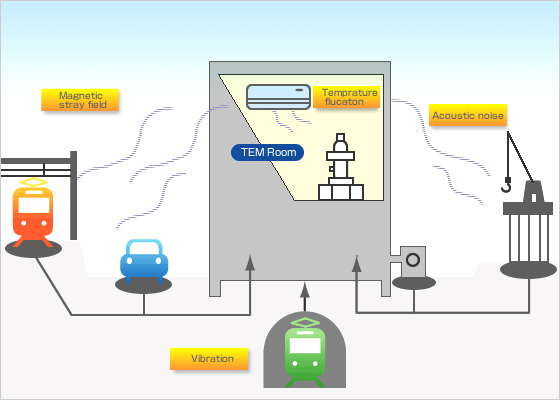 Disturbance on the image caused by magnetic field
left:With disturbance, right:Disturbance cancelled